This article is going to share how to get blog sponsors for beginners! This totally applies to intermediate or experienced bloggers as well.
If you wanna up your income, this is for you! I'll show you exactly how I started earning $500/mo in my 1st, 2nd, and 3rd-month blogging from blog sponsorship income!
This method works so well that now I actually do it for clients!
I earned my client over $1,500 in sponsorship income this month and nearly $2,000 in sponsorship income last month!
Really quick. This Blog Sponsorship course, Paid To Post is open NOW and you can get $30 OFF right now with code INFLUENCER30 at checkout.
The course shows you how to book paid sponsorship brand deals for your blog, yourself! You can take the process into your own hands and start making more money blogging, starting today!
Once you get your first sponsorship you will be totally hooked!
What are Blog Sponsors?
Blog sponsorships are partnerships between a blogger and a brand.
The two come together to collaborate on a project where the blogger showcases the brand on their website.
This collab can be structured in a bunch of different ways including:
Giveaway
Blog post feature
Video demonstration
Unboxing
Social media blast
Email blast
Any of the above or a mix can be done and that's called a blog sponsorship. The brand is sponsoring the blog.
Why blog sponsors?
Well, bloggers have an intimate connection with their audience. There's been a shift in media over the past decade and people are turning more to influencers and bloggers as role models and mentors than celebrities and recording artists.
Think about Kim Kardashian or a number of other influencers you could probably rattle off and how huge their following is.
More and more influencers are being born and followed at a younger and younger age.
I follow a string of YouTube influencers that are millionaires at 21 years old because they started and grew their following in their teens and now have millions of followers AND monetize their brand well.
So, brands want a piece of the action. They want bloggers to stand behind their product, share their audience and get more exposure, more traffic, and more sales as a result.
Make sense?
Ok, so that is what a blog sponsorship is, in a nutshell.
How Much Can You Make with Sponsorships?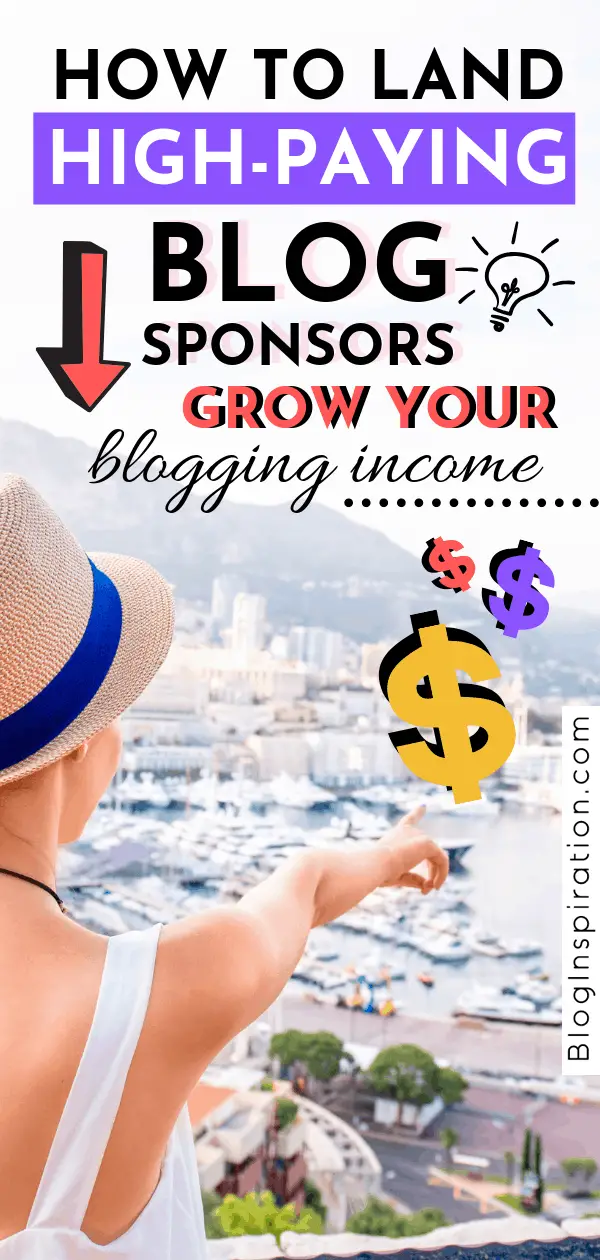 How much can you make with blog sponsorships?
Lets dive in!
This really depends. The rate can be determined entirely by you and these things should be considered:
Social network
Size of email list
Market
You can head to this resource for help on how to figure out how much to charge for sponsorships.
I see new bloggers start charging $50 a pop. I would recommend charging $150 to $250 per sponsorship.
This means, you'd only need a few per month to hit $500/month in sponsor income and as the blog and your following grows, you can increase your price.
I charged $400 in month 1 of a brand new blog before, believe it or not.
There are times when you won't be in control of the price you charge. We'll talk about this a bit more down below.
Types of Blog Sponsorships
1. Blog Sponsorship with Networks
Working with networks has its good parts and bad parts, like with anything.
First of all, a sponsor network is a company/website that you'll join. You will be able to join for free, don't worry (this is my favorite network, by the way). When you sign up, you'll likely fill out some questions about your blog and audience. This will help determine your rate.
Some networks set a rate for you, like $100 per sponsorship, for example. Others don't.
Pros of networks:
All the work is done for you
No negotiation of rates or sponsor package required
Opportunity to do a lot of sponsorships in a short time
Cons of networks:
Little flexibility
No control over your pay, or terms
Lots of competition
Lower pay
So, here's how it works. You join a network signing up and then you can either:
Bid for sponsorships
Or
Get matched with opportunities
If you bid for sponsorships, you'll see all the details of the sponsorship including compensation, terms of the deal, dates, and deadlines, etc.
If you get matched, that means you will be notified by the network when a sponsor deal that matches your profile comes up and you can choose to accept or decline.
2. Blog Sponsorships with Private Negotiation
The private negotiation route means you will work with brands one-on-one, locating sponsor opportunities, hashing out all the details including compensation, dates and deadlines, terms, etc.
Pros of private negotiation:
More flexibility
YOU make the rules
Faster payment
Higher payment
Cons of private negotiation:
So, more pay but more work. You will be in charge of it all. Now, I don't think it's particularly hard work but it will still be all on you. Here's what the process may look like:
First, you have to source sponsor deals. This means you have to find brands to work with. Once you locate a particular brand you would like to partner with, you contact them.
Then, you wait to hear back. If you hear back, you pitch your idea for sponsorship and if they agree, come to terms with the scope of the project, pay, and all the details.
Which is better, Networks or Private Negotiation?
Of the two options, I prefer private negotiation. I have a lot of experience with it and have helped others negotiate a deal with brands as well. I love the challenge and really like taking control of my income with sponsorships.
I recommend you do both, networks and private negotiations.
You can do a mix of both routes to get the most bang for your buck. If you're new to sponsorships, you'll be able to determine which route you prefer and hone in on one if you'd like.
Here are some blog sponsor networks to get you started:
4 Tips on How to Get High Paying Blog Sponsors
It can feel truly incredible when a brand agrees to work with you. They love your blog and feel like your audience is in line with their product and the two of you come together in partnership.
These 4 actionable tips are amazing and you will want to put them into practice starting today!
Take a look.
1. Prep your Blog for Sponsors
First, you want to make sure your blog is prepped for sponsors. Here's how you do that:
Make sure all your pages are complete (no blank About pages, or broken Contact pages here)
Do a full audit to ensure there are no broken links and each part of your site is professional looking and attractive
Add a Privacy Policy and Terms of Service
Get a SSL certificate (this changes your blog from http to https..this is super Google friendly, by the way)
Ok, so do these things to clean up your blog and move onto tip #2.
2. Cold Pitching Sponsors
Cold pitching works by YOU contacting sponsors and pitching yourself in hopes of booking a campaign.  This means you will be doing all the legwork.
Don't wait for brands to come to you. Take control and pitch them.
Make a list of products you use
Find the contacts and email addresses for those companies
Send a thoughtful email introducing your blog and sharing your ideas for collaboration
It's hard work sourcing potential sponsors, finding contact information, reaching out, replying, managing the campaign, drawing up contracts, etc.
Is it worth it? 
I think so. Instead of waiting to be contacted or scouring networks weekly for opportunities, you take it into your own hands. You have control.
3. Join sponsored post networks
Join as many as you can. Use these networks along with pitching to get the most sponsorships ever.
Check out this list of sponsors above, to get started.
4. Spy on the competition
Check other bloggers in your niche and see what sponsors they are working with, then pitch those sponsors.
This is a warm lead and much better than pitching coldly, to sponsors that have no history or relationship with former bloggers.
Final Thoughts
Getting to $1,000 per month with sponsorships is totally within reach.
Use these tips mentioned above to help you start making money blogging with sponsorships. Check out our freebie to you, down below..a huge list of blog-friendly brands that you can reach out to for sponsorships! Enjoy.
Psst.. don't miss out on Paid To Post and get $30 OFF right now with code INFLUENCER30