Are you trying to figure out how mom bloggers make money from home? Did the title catch your attention? This post is gonna be about how busy moms can make money blogging.
Whether you are a stay at home mom or work at home mom or a mom that works away from the home, this post is dedicated to helping overwhelmed, busy mamas make more money.
How This Mom Makes $5,000/Month From Blogging
I am super excited to share this mom blogger who went from zero to $5,000 per month on her new, small blog, just blogging about her life.
Can you imagine?
Blogging about your favorite 4th of July recipes, or travel or starting a home-based business and getting paid for it!
She actually makes up to (or over) $5K to $7K per month working from home.
She's a military wife and mama from Australia and I think she's pretty incredible.
Learn EXACTLY how she did it, what her blog is all about, how she makes money, and how YOU can adopt her strategies to replicate her success. Let's dive in!
How Moms Make Money Blogging
People choose to start blogs for many reasons.
It's an outlet, a place to vent, teach, inspire, and more. It's great to connect with others, create an audience and you can make a pretty lucrative living at it too.
Meet Ashli. Mom Blogger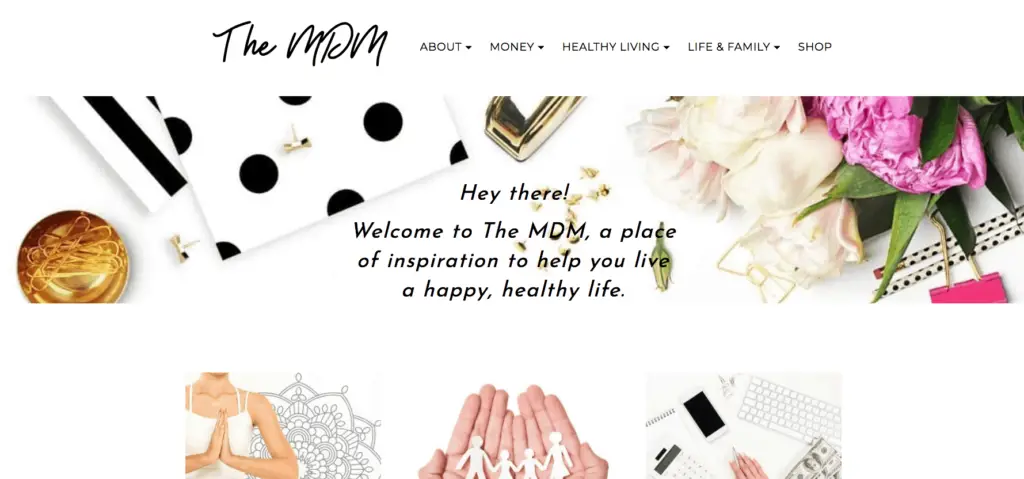 Ashli is a mama and military wife who blogs about her life over at The Million Dollar Mama.
She makes four figures per month blogging from one main income source. And she offers an incredibly popular ebook called Cracking The Code on the Amazon Associate's Program.
Here are some tips for how moms make money blogging from home.
How Mom Blogs Make Money
There are 4 main ways to make money blogging:
Products and services
Sponsors
Ads
Affiliate marketing
The first thing you need is you need a blog, obviously. Here's a free blogging course to help you start a blog in 10 minutes!
1. Products & Services
Your own products and services are created by you. These are product or service based and can include:
Consulting
Coaching
Printables
Worksheets
Courses
Ebooks
Coffee mugs
Merch
The list is endless. This is how a lot of bloggers monetize their blog. Through their own products..and, it's a lucrative way to earn blogging.
Just take a look at these blogger income reports detailing how regular people are making 6 figures with their blogs!
They do it, and you can do it too!
Resources: For your own products, these tools are recommended:
I personally use Sendowl. It's perfect for delivering your digital products and services. I use them specifically for my services like my Pinterest management package and my ebooks and eguides.
You upload your product or service to their platform and they will give you buttons and a link to sell.
When a customer buys, they digitally deliver the goods and pay you instantly! It's so amazing and it starts at $9 per month so very affordable. Learn more here.
For courses, they make it so easy for you to develop your curriculum and deliver courses to students.
They will help you..
Creating captivating curriculum for your students in text-based, video (and more) formats
Offer easy-to-setup pricing in subscription and one-time payment models
Offer tons of different checkout carts (like Stripe, PayPal, etc.)
Make it super easy to launch your course and pull off a great introduction to the general public
Check them out here.
2. Sponsorships
With sponsorships, companies pay you to feature them on your blog.
Learn all about sponsors from these helpful posts:
Pretty sweet, huh?
You usually get free stuff and compensation, though there are a bunch of different ways to work out the compensation.
This is great because you get to work with a company that you support and get paid to do so. Check out Paid To Post to learn more about making money this way.
Personal Story: If you don't know this about me, I've created dozens of blogs. I create them for myself (to keep) and to sell (I flip websites for a living).
So I create sites, grow them and then usually sell them. I have long used sponsorships as a secret way to generate a lot of money quickly, even on my brand new blogs.
I've been able to secure as much as $400 on a single sponsorship on month 1 and month 2 of my brand new blog! Pretty incredible.
And, the blog totally warranted it, with near six-figure page views, a bustling, growing social following and growing email list. It was a win-win for both me and the sponsor.
So it's possible for new blogs to make money with sponsorships from the very start.
Do not ignore this money-making opportunity on your blog. It's a lot easier than you might think. Check out the posts I mentioned up above to look more into this, if I've sparked some curiosity in you!
These are some examples of collabs you might do:
Video unboxing or demonstration
Blog post feature
Social media blast
Email blast
Giveaway hosting
Sponsorships can pay $50 to $50,000 each (or more) and the pay will vary based on your blog and the company. Some factors that influence pay:
Popularity of your blog/traffic
# of social media fans
# of email subscribers
This can be very lucrative as well.
Join Famebit or Grapevine, both sponsored networks that will connect you to brands for sponsorship opportunities.
3. Ads
The most passive form of blogging income, ads earn you income when your visitor clicks on an advertisement on your site.
You will sign up with one of these ad networks:
Google Adsense
Mediavine
Media.net
Adthrive
You will place ads on your site and get paid on each click. The more traffic you get, the more you will earn. It's not unusual for 100K+ monthly traffic blogs to earn $2K to $5K per month in ad income alone.
Adsense or Media.net is where most bloggers start. Mediavine requires your blog to have at least 25,000 monthly sessions to join and Adthrive requires a minimum of 100K monthly page views.
Once your traffic hits these marks, I recommend you join either immediately. Your pay will go up considerably!
4. Affiliate Marketing
Affiliate marketing is one of the best ways to make money blogging! You promote products on your site and if a sale results, then you earn a commission.
For example, if you refer a computer with a 10% commission, you will earn 10% of sales. If the computer purchase is $1,000 then your commission is $100.
Rinse and repeat on various affiliates and you can be on your way to thousands per month from your blog.
I have personally purchased this affiliate marketing course and it's amazing.
Here are my results:
I 10X'd my income the next month! Not joking.
Seriously, I earned ten times the income from one affiliate program after her training. You will want to snap it up.
Grab it here! Also, check out Making Sense Of Affiliate Marketing.
Final Thoughts about How Mom Blogs Make Money
As you see, there are many ways for moms to make money blogging. You just have to get creative. Questions about how you can earn?
Comment below so we can continue the conversation!