Have you wondered how to start a money-making blog? Maybe you want to share your story or you want to teach a skill or share and vent about your life.
Whatever your reason may be, blogging is an excellent outlet that you can use to relieve stress, connect with others, tell your story, cultivate an audience, and make money.
When I started blogging, I was totally clueless. I learned everything I know from Pinterest as I was blogging, hehe. I knew it was interesting to me and so I dove in. With a tiny investment of under $4/month, it was a no-brainer for me. What did I have to lose?
If you have a computer (you can use a smartphone or tablet, but it's worlds easier with a computer) and a couple of hours spare a week. Then you've basically got what you need to start a blog.
So let's get started…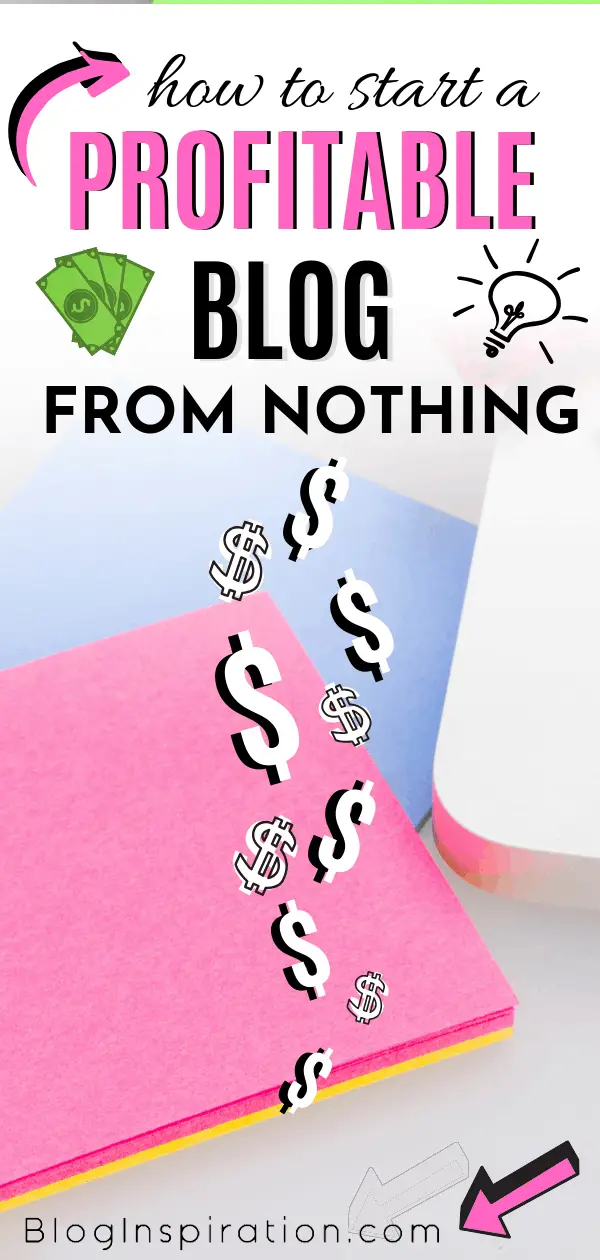 How to Start a Blog
There's an easy rinse-and-repeat formula I use for starting a blog. Here it is:
Pick a Niche
Name Your Blog
Get hosting and domain (psst…this is included for FREE with our favorite host)
Add WordPress
Design it
Add content
Publish and launch to the public!
How to monetize your blog
1. Picking a Blog Niche
The blog niche is the blog's topic. What are you gonna blog about?
Some Blog Niches/Topics examples:
Food
Lifestyle
Parenting
Education
Career
Working from home
Diet and nutrition
Fitness
Travel
Fashion
Personal Finance
The list goes on and on. Decide from the beginning what you want your blog to be about and that will be your niche!
If you want help with niche ideas check out this post: Best Blog Niches That Make Money
Next, name your blog.
2. Naming Your Blog
This is not rocket science. Your blog name isn't really that important, to be honest. You can name your blog your name (tons of successful bloggers do this), you can create a catchy name you love, you can keep it simple, or more extravagant. It is all totally your choice.
In my first blog, I picked the name in like 20 minutes.
Then 2 months later I wanted to change it. Go figure.
The truth is, the name didn't matter. It didn't prevent me from earning tens of thousands of dollars with that first blog (now sold) and it has not stopped me from becoming a six-figure blogger.
Here are some tips to help your blog name:
Try to have your blog and domain name match. For example, Beautiful Travels should be at beautifultravels.com for example. Aim to have the two match as closely as possible.
Go for .com (as it's international and a lot easier to rank on Google with a .com)
Don't misspell words or use slang in your name or domain
No hyphens or special characters
There. Now, hopefully, you have a name for your blog! The next step is buying a domain name & hosting…
3. Getting Hosting and Domain
Why Not Use Free Blogging Platforms
If you are wondering why I don't suggest a free blog, there are many reasons but the most important are: 
You will have more restrictions with a free blog; you are bound to the company's terms of service and are limited when it comes to modifying and optimizing your freebie blog. 
Should something happen, your blog could get wiped out and your back to square one. 
Example: I had advised a new blogger not to start a blog using a free blog company we won't name.  She decided to try this anyway and after much hard work and time, she built her blog up to making several thousand dollars a month. 
All was well until the company deleted her blog without warning, only sending her an email stating she had violated their terms of service.  Now because the blog was a free blog service, she was unable to use a plugin that would have automatically emailed a backup of her content. Aside from her many lessons, she was back to square one.
Get your own hosting and your own domain name
For hosting, I am not a fan of GoDaddy- they have cost me a lot of money because of simple mistakes and poor customer service.  I forgive them but until I hear they're improving their standards, I will be recommending higher quality hosting companies:
The hosting and domain registrar I recommend is Bluehost. You buy the hosting and get the domain name for FREE! I usually pick the basic or plus plan for my websites.
To start, click this link to open Bluehost hosting in a separate window. This way you can look at the instructions and signup for hosting side by side, to make it easy.
Select your hosting plan
Normally $8.99/month, grab hosting for under $3.95 per month with this discount.  Scoop it up before the price changes!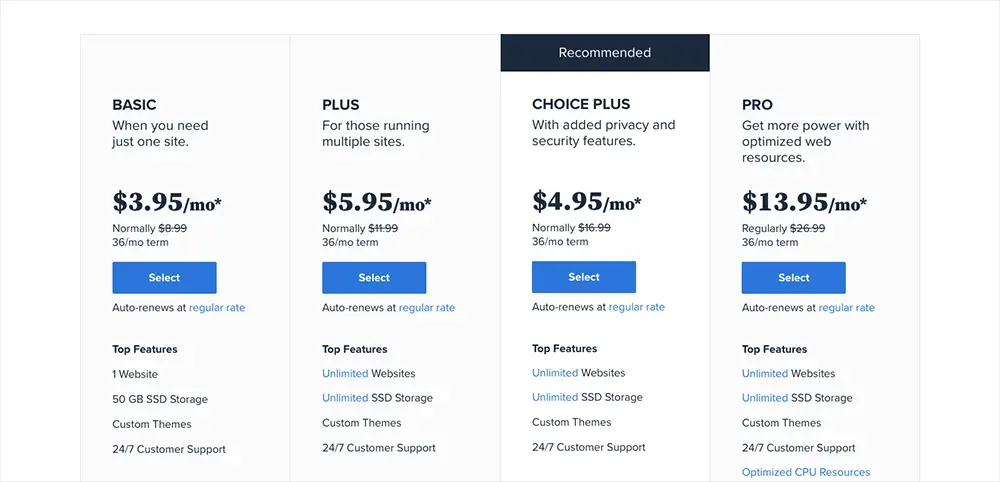 Set up your domain name
After selecting your plan, you'll be taken to this page.
New domain: If you have a domain name you have chosen, you will select the "new domain" option
I Have a Domain Name: If you have purchased your domain separately already, you will select the "I have a domain name option"
Then, create your account and fill out the appropriate fields.
Register with Bluehost
Select your hosting package
You can sign up for 12 to 36 months. I recommend the 36-month option because it saves you the most money but if you want to do 12 months, that is totally fine too.
Do you need package extras?
It's up to you but I'd recommend domain privacy.
Payment information
Next, you'll pay and complete your setup.
Choose a password
To make it super simple, I will share the steps down below.
Congratulations, you did it!
4. Adding WordPress
WordPress is the blogging platform, so you want to install this on your site (it's also totally FREE). WordPress will be where you write your blog posts, add media and photos, and manage your entire blog.
Bluehost has a super simple WordPress install that adds WordPress to your account for you.
First, you log in and click on the "Install WordPress" icon.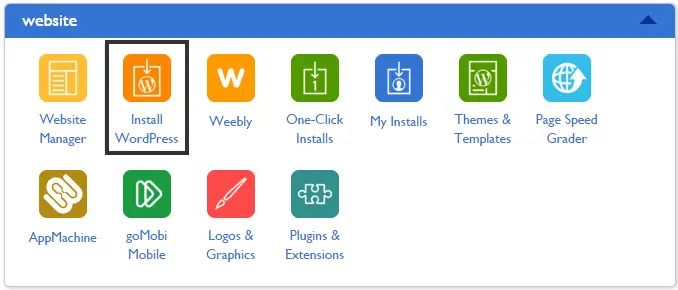 Next, choose the "do it yourself" option and then click the "Install" button.

Then choose where you want WordPress to be installed and click the "Check Domain" button.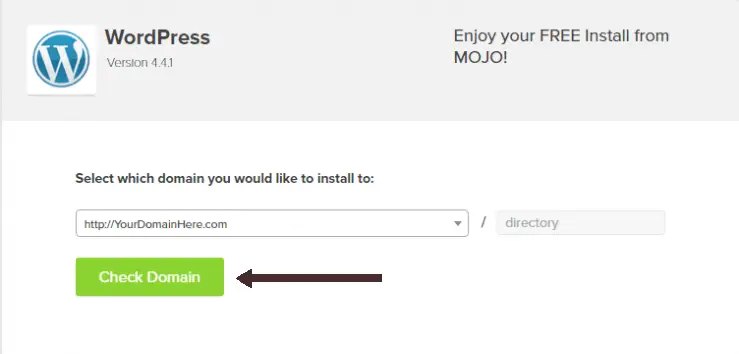 The last two clicks you need to do are acknowledging their terms of service and then click the "Install Now" button.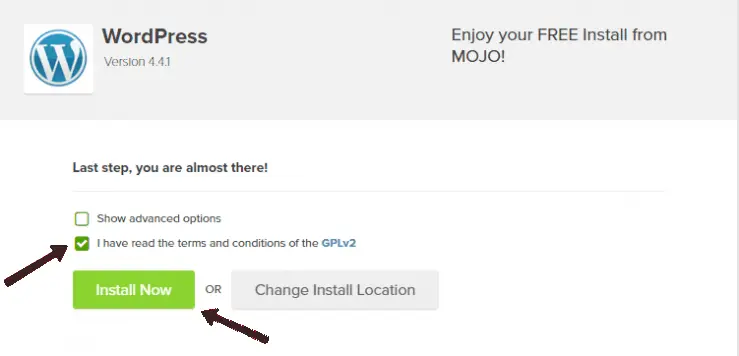 5. Design
Design is super fun. This is where you will apply a theme and make your blog pretty.
The design is all about the theme. You can go with a free theme or a paid theme. WordPress offers a ton of gorgeous free themes and I've dabbled in free and paid themes.
If you go paid, you'll get a little more of what you want, I think. I love Bluchic and I have enjoyed about half a dozen Bluchic theme design sites. Head here to check out all their selections. You'll fall in love.
You'll also add plugins, which are helpful tools (these are mostly free, by the way) that will help you with everything from SEO, social media, traffic, and more.
6. Add Content
Content is the meat and potatoes of your blog. To begin with, you want to start by adding some pages to your blog, pages like:
About
Contact
Resources
FAQ
Privacy Policy
Terms and Conditions
And your blog posts, of course. The blog posts have different categories. These are the topics you will blog about. For example, if you are doing a baking blog, some categories might be pies, cakes, chocolate, vegan, etc. You get the idea.
When you're writing your blog posts you want to be writing nice, long blog posts. You should aim for 2,500 words.  If you just can't write that much, make it 1,000+ words and you should be ok.
Your blog post should also be chock-full of tons of images, graphics, screenshots, and the like, to help break up the post and add tons of interest to your article.  You can get free stock photos from these sources:
If you want to splurge, you can look into paid stock photos. This company is the stock photo site that I personally use and love. They have affordable monthly and yearly packages that you can get behind
Aside from stock pics, go crazy with screenshots. Any time you can illustrate by taking a screenshot, it adds a whole level of professionalism to your site.
Taking a screenshot on your computer is as easy as pressing the Print Screen button, pasting in Paint (or similar paint tool or software), and cropping out the parts of your screenshot you don't want to show (like if you happen to have a million tabs open, hehe). Lastly, save your screenshot and then add it as an image on your blog post. Do this often.
7. Launch
Congratulations you've reached the end and you are almost ready to launch! I recommend launching your blog when you have at least 5 to 20 blog posts written and ready for publishing.
This will give a good, solid base for your blog so visitors will have a nice selection of pages and posts to look at when they land on your blog.
YOU'VE NOW CREATED YOUR BLOG, WHOOHOO!
How do you feel? Was it a breeze?
If you still need more help with starting your blog you can join the FREE Blogging Email Course: How to Start a Money Making Blog!
Learn how to set up your blog the RIGHT way, plus make it profitable!
You will discover how to get traffic from day one! ENROLL FREE
Here are some helpful resources you'll want to check out to help you on your blogging journey:
Ok, next looks go into the blogging income.
How to Monetize Your Blog
There are several ways you can monetize your blog and I explore them all!
Ads
Sponsorships
Your products and services
Affiliate marketing
I will go into this more, down below, so you know how each income source works, what to expect money-wise, and other helpful tips. First, let me share what exactly blogging is about.
We talked about ads, sponsorships, and some other income forms up above. Let's deep dive to go over all these, shall we?
Ads
Advertisements can be placed on your blog through ad networks. You apply to join the ad network (for free) then they approve you and you'll get ad code to place on your blog that will display to your visitors.
You will earn money on every ad click.
The visitors that click the ad do not have to buy, sign up, provide their email address, or anything like that, in order for you to earn.
They just have to click the ad! This is the easiest form of money for a blogger, but, it's also the least lucrative.
In order to earn what I'd consider a full-time income ($3K+) per month, you'll need a TON of clicks, which usually comes from receiving 100K or more monthly page views.
This can happen but it likely reaches this level of traffic for a new blog after a year or longer.
Ad networks to check out:
Google Adsense
Mediavine (apply here when you hit 25,000 monthly sessions)
Adthrive (apply here when you hit 100,000 monthly page views)
Sponsorships
Sponsorships or brand deals are when you and a brand collaborate on a paid feature, like a:
Blog post
Video demo
Giveaway
Social media share
Email syndication
So basically, the company pays you to blog about them.
This is a lucrative form of blogging income with the potential of earning up to six figures per sponsorship.
The Kardashian sisters earn hundreds of thousands to millions of dollars for a single social media shoutout!
I've earned as much as $400 per sponsorship on brand new blogs, before.
You can fetch $1,000+ when you reach 100K+ monthly page views. Do not rule out this income source. I've seen tons of new bloggers do very well from the start and begin getting paid sponsor deals after a few months of blogging.
Learn more about sponsorship income in our post on landing high paying sponsors and how to make $1,000/month with sponsorships (for total newbies).
Products
Product income is easily the highest earning income a blogger can get.
You create and sell your own products and earn 100% of the earnings.
Examples of products to create:
Digital planners
Checklists
Digital courses
Ebooks
Services
You can offer your services too. This is another way to keep all the income coming in.
Examples of services to offer:
Consulting
Bookkeeping
Auditing
Design
Social media management
Affiliate Marketing
Affiliate marketing income comes from your product referrals that result in a sale. You earn a commission on that sale.
For example, if you refer a candy subscription box to your blog readers that earns you a $5 commission on each successful sale then, 10 referrals for the month means a $50 commission to you, from that program.
That may not sound like a lot but if you do the same to 10 other affiliate products, that's $500!
Not to mention, the more your blog grows the more traffic you get and the more sales you will successfully refer to, usually.
For more on monetizing your blog check out our How to make money blogging guide
How Did I Get Started Blogging?
I was working in another business, running a busy ecommerce store. The store was great and it had been running for a few years.
I actually left my 9 to 5 to operate the store full-time. I was looking to transition out of store operation because it was really eating away at my life.
A lot of people actually dream about running a successful online store but it can really take over your life.
I was feeling less fulfilled, spending less doing things I loved, neglecting my family, it was just not working so, I sold the store!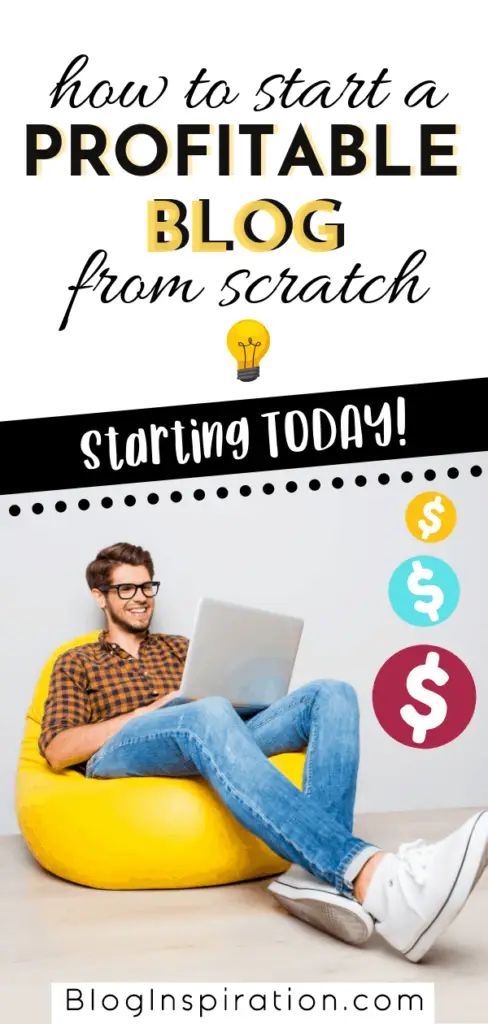 Prior to that, I saw a random Pinterest pin in my feed about blogging. The pin talked about a blogger that was making money blogging.
Running my store, I had worked with bloggers and never thought of bloggers being able to earn a full-time income.
I thought it was awesome to do something enjoyable and get paid for it, working on your own schedule, flexibly, enjoying a lot of the same perks I had with my online store.
So, I started my blog a few months before the sale of my eCommerce business and that's how my story began.
I started earning thousands per month after my 4th month of blogging and by month 9, I hit five figures that month!
Everything was falling into place with the blog. So much so, that I decided to start another blog in a different niche, personal finance. My first blog was about making money online. While in my 9 to 5, I researched the heck out of money-making online opportunities.
I really was not happy in that 9 to 5 job and was trying desperately to find an income source to replace it, for good.
So, I did research and I researched some more and through all that, I learned about eCommerce which is how I was able to break into entrepreneurship life.
Conclusion
Michelle of Making Sense Of Cents earns 5 figures per month from affiliate marketing and selling digital products. She teaches a course called Making Sense Of Affiliate Marketing.
Chelsea from HerPaperRoute earns 5 figures per month from affiliate marketing and from flipping blogs. If you want one course that teaches everything, affiliate marketing and so much more, enroll in Chelsea's 6-course mega bundle Be Your Own Blog Boss. 
There you go! You now know how to create your blog and have some background on monetizing it! Don't forget to bookmark this blog and save this pin below for later!