I recently published a blog post all about starting an email list; as I was writing that post I had the idea of another blog post to tie in with that one…
With that, I give you…
9 Email Content Ideas to Send to Your Email List
I know starting an email list can be daunting enough and then once you get subscribers and try to keep them that is a whole different story!
You may quickly start to wonder "what am I supposed to send my email subscribers after my freebie?"
Don't worry my blogging friend! I'm here to help, I have put together this list of email ideas to send to your subscribers.
If you need helping growing or to start your email list check How to Start an Email List from Scratch!
Now that we have that covered let's get to it!
Your Email Subscribers want to hear from you! (post freebie)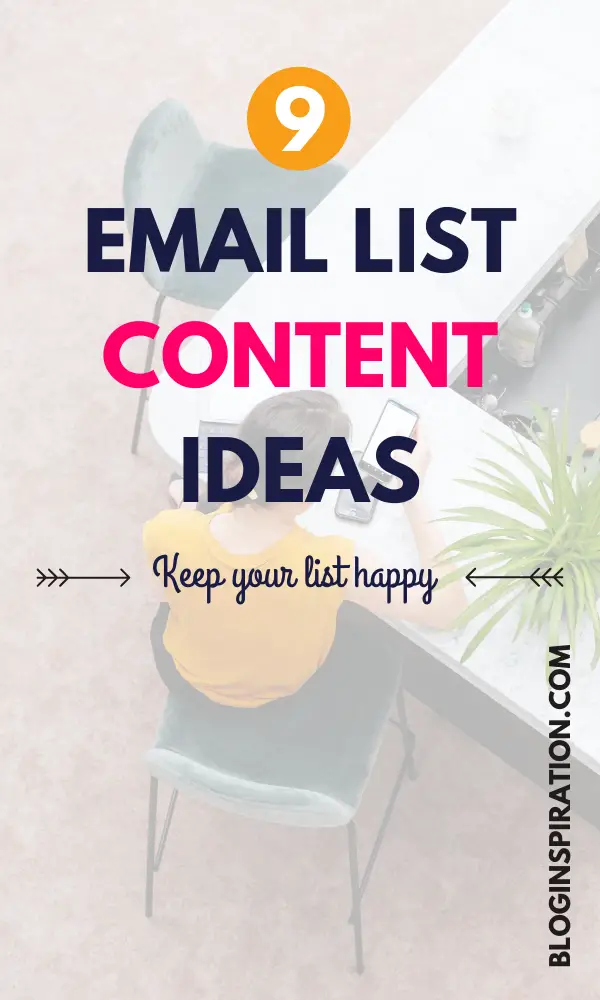 Your email subscribers want to know what you have to say otherwise they wouldn't have subscribed. So send them emails they will love to open every time you send a broadcast.
I assure you your subscribers will want to open these!
If they don't that's ok too because they probably aren't your target audience anyway. They probably only signed up for your freebie and not much else.
1. A Welcome Series
A welcome series is a great way to let your subscribers learn more about you and your blog. This can also work as a great way to filter out those who aren't your target audience.
A welcome series can work as follows:
They opt-in through your lead magnet (opt-in freebie).
They receive your freebie that is the first email (email 1).
The next day or how you choose to set it up they will receive your first welcome series email. (email 2).
The next two emails are spaced out 1 day apart. (emails 3 and 4).
The final welcome series email is sent a week later (email 5).
Another great thing about a welcome series is while you are working on your blog new subscribers are reading all about your blog, new blog posts, or studying your freebies.
2. A recap of your blog posts
I am notoriously bad at sticking to my blogging schedule! I seem to write better when I don't plan on getting a certain amount of posts published.
If you do the same, a recap of your month's blog posts is great for your subscribers to see a recap; Then they can choose which ones they want the full scoop on!
3. A Special Offer
Offering your subscribers a special offer that not everyone who visits your blog gets is a great way to grow and nurture your email list!
Most of the time subscribers sign up for your email list to get something in return. You can offer things like discounts or flash sales on your products! Everyone likes a deal! Let your readers know you appreciate them and that you are glad they chose your blog.
4. The Mistakes I've made blogging
This is another favorite of mine, like I mentioned before I love reading real-life stories. Sharing your mistakes, and how you have overcome those mistakes is aspiring to your readers. It allows them to see that even the most successful bloggers and Mompreneurs make mistakes in the beginning.
If you are preparing to launch a new product, share a teaser with your email subscribers.
This will not only let them know you are about to launch a new awesome product but It will get them pumped and want to purchase it when you do finally launch it.
Ideas for teasers could be snippets of your course or a few pages of your ebook.
6. Tools and Resources Email
I have recently received a few messages from my readers asking what tools and resources I use for my blog.
So, if you send this email out, your email subscribers will not have to wonder what tools and resources you recommend. This is also a great way to earn affiliate income. Simply use affiliate links to the products you love and trust.
7. A behind the scenes look at your life, blog or business
Show your readers you are a real person with real-life hurdles to jump over just like they have. Me personally, I love to see the real-life side of making money online.
Share with your readers what it looks like when you write blog posts or the deleted scenes/outtakes of your how-to videos.
8. A Loyalty Email
Let your subscribers know you value their patronage by sending them something super special on the anniversary of your blog. Let's be honest here you have to also thank your readers for the success of your blog.
Great ideas for this email could be a super sale on your e-book or course or a freebie just for them.
Emails like this show your readers that you genuinely care and pay attention to small detail!
9. Free Email Course
This one is probably considered more of a lead magnet, but will still work well either way! You can send this to your email list first then use it as a lead magnet.
Within the free email, course add the products you wish to sell. This is all-around a great thing to have with your email list.